Assessment of Habitat Quality and Future Directions for Enhancement  of  the River Drumcomogue
The Drumcomoge River is a headwater of the Camoge River, a sub-catchment of the R. Maigue. The aim of the project is to improve the environmental quality of the river to the benefit of biodiversity, salmonid populations and the local community. The project reviews the current environmental status of the Drumcomoge sub-catchment in relation to biodiversity, water quality, hydromorphology and environmental pressures. We would like to thank all the collaborators in this project.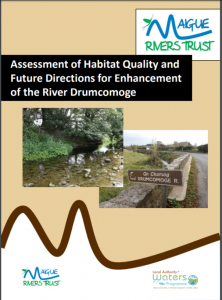 Assessment of Habitat Quality and Future Directions for Enhancement of the River Drumcomoge
River Maigue Catchment Riparian Habitat Study
This report presents the results of a habitat survey undertaken along the main tributaries of the River Maigue during summer 2019 by Wetland Surveys Ireland on behalf of the Maigue Rivers Trust. Baseline information on the extent and condition of riverside (riparian) habitats occurring within the Maigue
catchment is provided.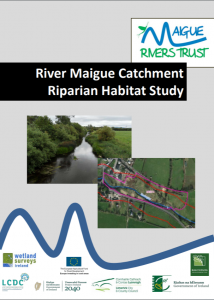 Maigue Riparian Report_Wetland Survey Ireland
This is a longer copy of the report that includes appendices and increased images
Complete Riparian Margins Report
Instream Biodiversity of the River Maigue
The Maigue Rivers Trust has commissioned Sweeney Consultancy to do  biological  assessment of the River Maigue to establish the biodiversity of the freshwater macroinvertebrate fauna and macrophyte flora, the status of the population of the protected white-clawed crayfish and the distribution of otters. A total of 110 macroinvertebrate taxa were identified from the 30 samples taken throughout the Maigue catchment. Seven of the taxa found were not previously recorded in Co. Limerick: two segmented worms (Nais pardalis and Nais variabilis), one stonefly (Diura bicaudate) and four caddisflies (Cheumatopsyche lepida, Lype reducta, Ithytricha sp. and Wormaldia sp.) If you would like to read more about the macroinvertebrates, white-clawed crayfish and the distribution of otters in the Maigue Catchment. The full report can be found below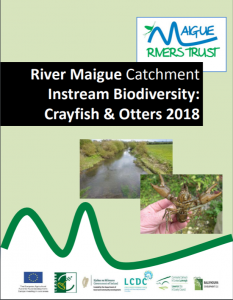 Maigue Instream Biodiversity Crayfish Otters ISBN
Fish Stocks in the Maigue
Chairperson of  the Trust, Tom Harrington, has  written a report on the 17 different fish species in the Maigue.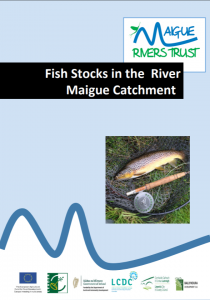 Social and Environmental  History of the Maigue River
A study of the social and environmental history of the Maigue River  written by Catherine Dalton & Paul O'Brien, Geography and History Departments, Mary Immaculate College, Limerick.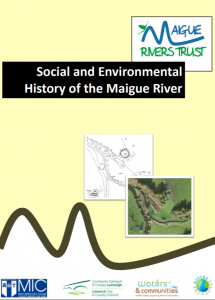 https://maigueriverstrust.ie/wp-content/uploads/2019/06/Social-and-environmental-History.pdf
The Maigue River Catchment Characterisation
A physical  characterisation of the Maigue Catchment written by Catherine Dalton & Niall Walsh, Mary Immaculate College, Limerick