In May and June 2022, the Maigue Rivers Trust secured funding from LAWPRO's Community Development Water Fund and Limerick City and County Council – Kilmallock & Cappmore Municipal Fund allocation – to start giant hogweed control measures on the Morningstar River between Elton and Ballyvolane near Bruff. Giant Hogweed is not only an aggressive alien invasive species but it is also a human health hazard due to the severe skin burns the plant sap causes when combined with UV sunlight.
The poster below shows the extent of the plant's spread down the Morningstar as it colonizes the river bank downstream towards Bruff. Knotweed Ireland Services was the company that carried out the majority of the work and a few landowners were able to carry out their own control measures.
The Giant Hogweed control work needs to be a multiannual project (est. 5 years for the Morningstar R.) until the plant's seed bank is exhausted. Future funding is needed to continue the necessary control work.
The Maigue Rivers Trust is very grateful to the Local Authority Water Programme's Community Water Fund and Limerick City and County Council for their support of this project in 2021 & 2022.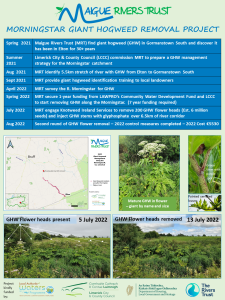 (Click the image to download the poster)