River and lake water quality is measured in a number of different ways:
Biological Monitoring involves examining the insects and other invertebrates that live on the river bed. Based on the numbers and diversity of these creatures, the river can be assigned a quality status from Q5 which is pristine to Q1 which is seriously polluted (see table below)
| | |
| --- | --- |
| Q value | Water Quality Status |
| Q5 | High status (Pristine) |
| Q4-5 | High Status |
| Q4 | Good Status (Clean) |
| Q3-4 | Moderate Status (Slightly Polluted) |
| Q3 | Poor Status (Moderately Polluted) |
| Q2-3 | Poor Status (Moderately Polluted) |
| Q2 | Bad Status (Seriously Polluted) |
| Q1-2 | Bad Status (Seriously Polluted) |
| Q1 | Bad Status (seriously polluted) |
Sensitive species such as Stonefly and Mayfly larvae would be found in clean rivers. These would be absent from polluted rivers and more tolerant species such as blood worms and leaches would be found in these situations.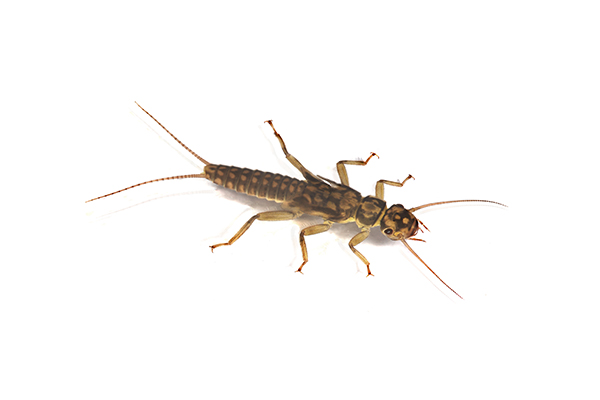 There are many species of stonefly, but the larva all have the distinctive two tails. Stonefly larva are very sensitive to pollution and their presence generally indicates very good water quality.
Image courtesy of ©Dr Cyril Bennett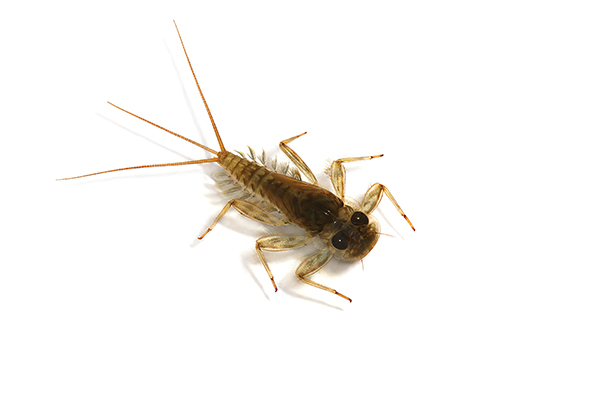 Mayfly larva are a little more tolerant of pollution than stonefly larva, but their presence still indicates relatively good water quality. Mayfly larva can be identified by their three tails.
Image courtesy of ©Dr Cyril Bennett
Hand held devices can be used to measure temperature, pH, dissolved oxygen and conductivity which gives a rough indication of how clean or otherwise the water level is. A high level of dissolved oxygen generally indicates clean water and a good environment for fish.
Samples of the river or lake water can be taken and tested in a laboratory to get an indication of the levels of organic matter, nutrients and other chemicals in the water. The parameters most commonly used to assess river water quality are:
Biological Oxygen Demand (BOD), which indicates the presence or absence of organic pollution such as sewage. Average BOD levels in rivers should be kept below 1.5 mg/l (1.5 parts per million)
Ammonia, which is very toxic to fish and which can come from sewage, slurry or peat lands. Ammonia levels should be kept below 65 parts per million or 0.065mg/l
Phosphorus: this nutrient, which is very important for plant growth on land, can have a devastating effect on rivers and lakes if it is present in excessive amounts. Rivers channels can be choked by weeds, spawning grounds obscured by weeds and algae and, at night, the respiring plant can reduce oxygen levels to the point where fish can suffocate. Phosphorus can get into rivers from sewage, septic tanks, industrial discharges and agricultural runoff.  Average phosphorus levels should be kept below 35 parts per million or 0.035mg/l in Rivers and even lower in lakes.
Water Quality Monitoring in the Maigue Catchment
Limerick City and County Council takes water samples for testing at nine sites within the catchment approximately ten times a year. Generally speaking BOD and Ammonia levels are acceptable at these sites, but Phosphorus levels vary from very good in the upper reaches of the Loobagh to quite poor further down the catchment are as high as 85ppm in places. Limerick City and County Council intends to publish its monitoring data on its website in the near future at which point a link will be provided.
The EPA carry out biological monitoring at approximately 30 sites on the Maigue and its tributaries every three years. The most recent round of monitoring covered the period 2013 to 2015.
Most of the catchment is Q3-4 and Q3, which means that is slightly or moderately polluted in most areas. However, River Loobagh is very good and is considered clean throughout most of its length. Unfortunately, other tributaries are not anywhere near as healthy.